Heigh-Ho Silver! & Pre-Christmas Soiree Treats
December 16, 2010, 4:15 pm
Filed under:
Baking and Cooking
| Tags:
alcoholic beverages
,
B&B can suck it!
,
baking
,
candy cane cooler
,
coconut macaroons
,
desserts
,
holiday food
,
homecoming
,
I hate Idaho
,
new blogs
,
pumpkin pie martini
,
red velvet cupcakes
,
the importance of cake flour in baking
Hi!
I know I've been pretty lame at keeping up with this. Well, a lot lame considering that I haven't posted since super late August (eep!). Truth be told, I haven't felt the need to blog anything. And it's probably really lucky for my very few readers that I haven't been posting, because you probably would have stopped reading anyways. Why?: I hate Idaho, so so so much. I could go on and on about why I do, but it's not even constructive and fun and I've already gotten in an appropriate amount of bitching thanks to the listening ears of my dearest friends and family. Remember when I said to keep depressing shit off the internet? Yeah, I practice what I preach, just in case you were skeptical. Anyways, maybe you're not aware, but it's hard to find the desire to write when you're just bumbling along in a situation (or state) that you don't want to be in.
In the meantime, I'm almost entirely done with the three classes I was taking (Philosophy 101, Intro to Communications 101, and Sociology 101, just in case you were wondering), I'm moving back to Oregon this Sunday (woo!), I've been upping my baking and cooking skills like a madwoman, Liz got two adorable sibling kittens who I will sadly be leaving when I move, and I've barely taken any pictures at all in the past six months (double eep!). Oh, and I've been reading just about every awesome blog I've tripped across.
I'm going to try to get back into the routine of at least semi-regular blogging, if only in preparation for a new blog I plan on starting with my friend Cliff once he and I can sit down and figure out the details (he lives far away). The hardest part? Picking a name, no lie. It's our only roadblock. Some things are just flat off the table, so don't even bother suggesting them:
Clifford says: I'm -thiiis- close to just registering masqueradingmuskrats.com or something silly.
dax m'coda says: Bahaha. Masquerading Muskrats. It sounds like a site created by pedophiles to draw in the kiddies.
Clifford says: How did you find out about my pl—err
He's not really a pedophile. Just saying.
So, onto the second part of le post. This past Monday was my sister's 23rd birthday. Saturday night she had a bunch of her girlfriends over to dine on treats and get dolled up for birthday barhopping in downtown Boise. I played super sister and provided the transportation to and from downtown, and made some deliciously easy and easily delicious treats (the titles are the links to the recipes):
Coconut Macaroons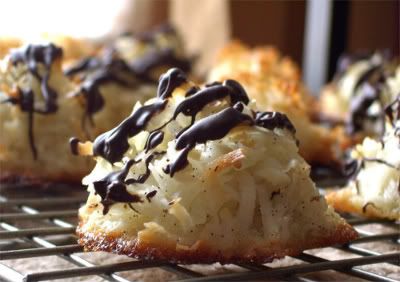 source
I highly recommend taking the advice from that commenter about using parchment paper; I liberally greased my cookie sheets and the macaroons still stuck like glue. Also, I baked mine for 11 minutes and instead of making them teaspoon-sized I opted to drop them by the spoonful. And when they say cool slightly, cool a lot, but not enough that they harden to the pan. After removal I put mine on a melamine plate and stuck them in the freezer for about 10-15 minutes to let them firm up, and then elected to drizzle them with melted chocolate. Très bon!
Red Velvet Cupcakes


source
I love that this recipe includes a little history lesson on the origins of red velvet. I'm going to be honest: This was the first time I used cake flour, and oh my goodness, the difference is superb. I couldn't possibly consider making cakes without it now. And I highly urge you to go out and buy buttermilk instead of doing the lemon-juice-in-room-temperature-milk trick, I had to use a buttermilk powder mixture but I think I could have fooled the common baker. I've tried other red velvet recipes before and was not impressed, but this one was excellent. I would only make one small change next time by adding a bit more cocoa powder. Also, I cheated and used store-bought cream cheese frosting, but only because I don't have a mixer here at my apartment and I can never reach the right frosting consistency otherwise. I love these cupcakes (:
Candy Cane Cooler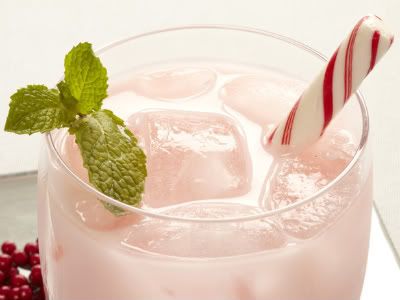 So, this drink is super strong as is. Unless you're a raging alcoholic, I suggest you make the following alterations:
3/4 oz instead of 1 1/2 oz of the mint infusion
Just under 1/2 oz. of brandy (not B&B, it's pricey, and the general consensus was that plain old brandy would probably produce the same flavor for a lot less)
1 1/2 tbsp instead of 1 tbsp crushed peppermint candy
Add 1 tsp sugar
Add milk until desired strength
It ended up being a total headache, and by the time it was perfected everyone had already had a couple shares of the…
Pumpkin Pie Martini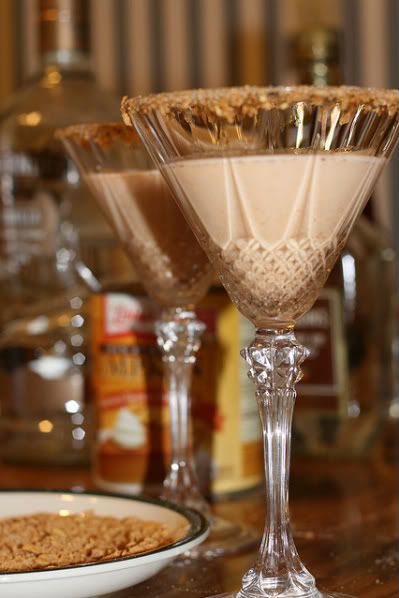 source
This cocktail was very well-received, and not just because the peppermint one was such a dud. Pumpkin is one of my ultimate favorite flavors (and scents) and it was perfect to make because I've been slowly working through a huge can of pumpkin puree I bought a couple weeks ago that has so far yielded 2 batches of pumpkin cookies and two pitchers of this drink. It's still holding strong, Liz doesn't bake so I'll most likely end up throwing it out before I leave -sigh-.
Do you know what my most favorite part of making food is? Seeing people enjoy it. It was a very, very successful, though relatively simple, night in my opinion.
I'm feeling a music post coming soon, maybe tomorrow?
And to my three readers who expressed concern in some form over the past three months: I apologize, and I hope you'll come back because it's really awesome to know that someone actually reads this. Thank you (:
Love love love,
Dacoda